Disposable Gynecology Surgical Pack Medical C-Section Drape Pack
Product Description
---
1.Material:SMS
2.Color: Blue
3.Certificate: CE , ISO13485, EN13795
4.Components:
| | | |
| --- | --- | --- |
| No. | Item | Qty |
| 1 | Back Table cover, Reinforced 140cmX200cm | 1pc |
| 2 | Hand Towel 40cmX50cm | 2pcs |
| 3 | Standard Surgical Gown Large | 1pc |
| 4 | Hand Towel 40cmX50cm | 2pcs |
| 5 | Surgical Gown Reinforced, Large | 1pc |
| 6 | X-Ray Detectable Gauzes 10X10, 12ply | 10pcs |
| 7 | Bulb Syringe | 1pc |
| 8 | Cord clamp | 1pc |
| 9 | Yankar suction tip | 1pc |
| 10 | 10 Feet tubing | 1pc |
| 11 | Suture Bag | 1pc |
| 12 | Baby Blanket 66cmX76cm | 1pc |
| 13 | Absorbent towel 40cmX50cm | 2pcs |
| 14 | Mayo Stand Cover, reinforced 58x137cm | 1pc |
| 15 | C-Section Drape 183x305cm | 1pc |
| 16 | CRS Outer Wrapping | 1pc |
The sterile baby birth surgical pack is a series of surgical drapes, surgical gowns , gauze, back table covers, syringes and other materials and tools in one package, reducing the preparation time of surgical materials and searching time of various materials in medical institutions. The maternal and newborn care kits can be customized according to customer requirements.
Product Pictures
---
C-section surgical pack: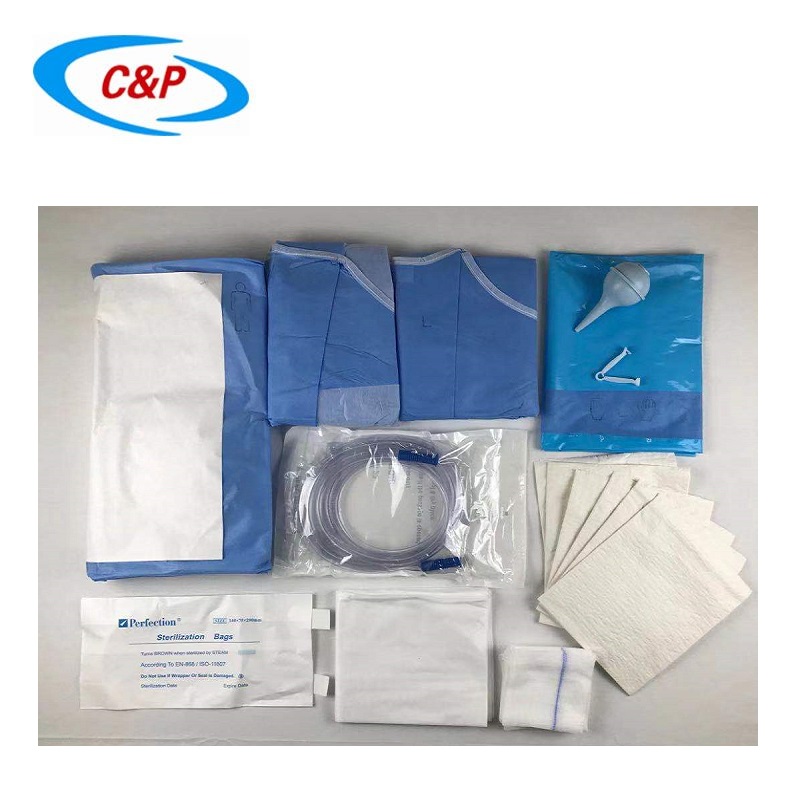 C-section surgical drape: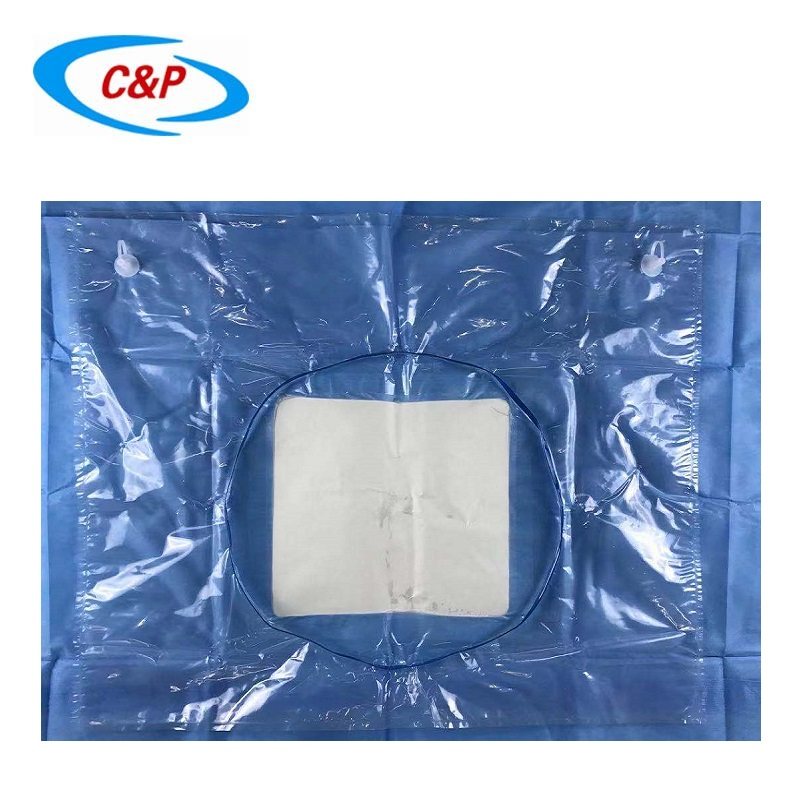 Product Features:
1.Concentration: This product is to concentrate a series of materials and tools such as surgical drape, surgical gown, gauze, back table cover, syringe and so on in one package, so as to reduce the preparation time of operation materials and the time of searching various materials in medical institutions.
2.Disposable: This product is a disposable product, which can not be reused after being disassembled. It can absorb all the waste materials in the process of surgery, effectively avoiding cross infection.
3.Convenience: easy to operate, easy to spread. The product has been sterilized by ethylene oxide at the time of delivery, which can be directly used by medical institutions. It does not need to use a variety of disinfection and sterilization equipment for repeated disinfection and sterilization, which improves the working efficiency of medical institutions.
4.Reliability: fresh field of vision, rapid absorption of blood and other liquids after surgery, so that the operator's field of vision is clear, easy to operate, and improve the reliability during operation.
Product Functions
---
1. Cesarean section drape: cover the patient, effectively block the penetration of the patient's liquid and bacteria, and prevent cross infection.
2. Standard surgical gown: good protection performance, with bacteria isolation, antibacterial and comfort.
3. Baby blanket: soft and comfortable, warm and absorbent, used to wrap newborn baby.
4. Gauze: hemostasis, pressing and suction during operation.
5. Hole towel (plus liquid bag): cover sterile operation area, expose operation field of vision, effectively block liquid and bacteria.
6. Outer Wrapping: it covers all kinds of accessories in the operating bag, and can be used as a tablecloth for instruments after the operating bag is opened.
Scope of application: it can be used for one-time protection during operation in corresponding departments of medical units.
Our Company
---
Hefei C&P Nonwoven Products Co.,Ltd. is a Private company established in 2007, C&P located in Hefei city,capital of Anhui. C&P is a manufacturer and supplier of surgical drapes&packs, surgical gown, equipment covers and other disposable medical products. We assemble packs specially for all kinds of surgeries. Our 3000 square meter 100,000 grade standard clean room(ISO8) space and more than 100 employees aiming to flexibility and cost effective efficiency.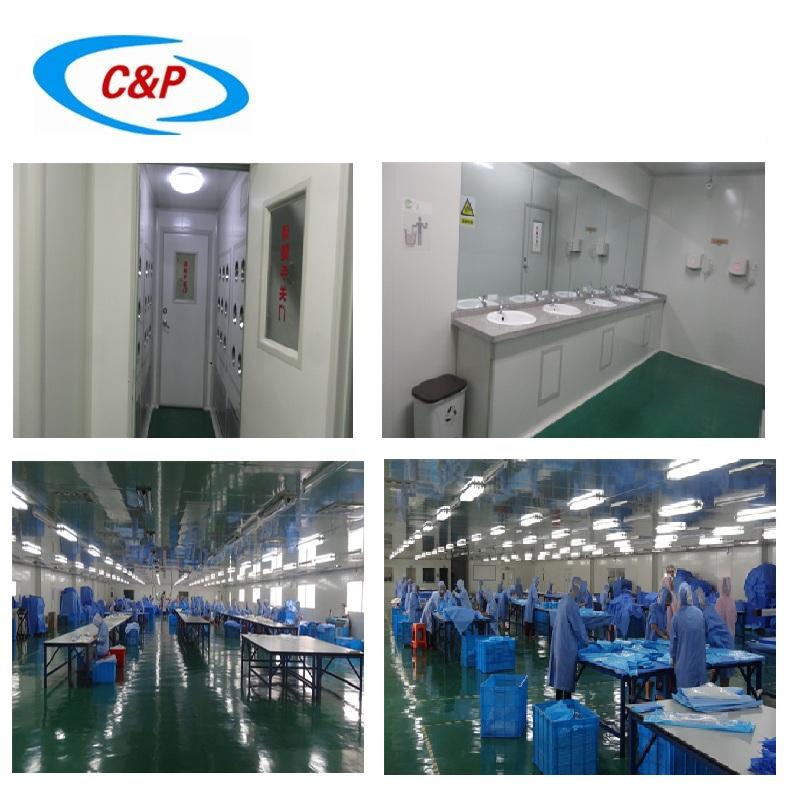 Why Choose US!
---
1. We have CE& ISO13485, TUV certification.
2. Welcome any OEM requirements.
3. Our manufacture manager has 30 years experience of nonwoven surgical products.
4. Qualified products, 100% brand new material, safe and sanitary.
5. Professional shipping service if necessary.
6. We have strict quality control system, examine every product carefully.