Disposable Orthopedic Surgical Pack Medical Extremity Drape Pack Sterile Arthroscopy Surgical Pack
Product Description
---
1.Material:SMS
2.Color: Blue
3.Certificate: CE , ISO13485, EN13795
4.Components:
| | | |
| --- | --- | --- |
| No. | Item | Qty |
| 1 | Standard Surgical Gown L with Hand Towel and Wrapping | 1pc |
| 2 | Back Table Cover 150x230cm ,78g SMS+PE | 1pc |
| 3 | Mayo Stand Cover 58x137cm | 1pc |
| 4 | Hand Towel 38x56cm | 1pc |
| 5 | Standard Surgical Gown L | 1pc |
| 6 | U Split Drape, 195X310cm | 1pc |
| 7 | Adhesive Side Drape 114x243cm | 1pc |
| 8 | Suture Bag | 1pc |
Disposable arthroscopy surgical pack prevent fluid from reaching the patient's body surface during the operating, provide excellent barrier and protecting against infection, it contains the necessary items for the orthopedic operation and can provide one-time protection during the surgery. The orthopedic surgical drape pack is widely used for orthopedic surgery.
Product Pictures
---
Orthopedic surgical pack: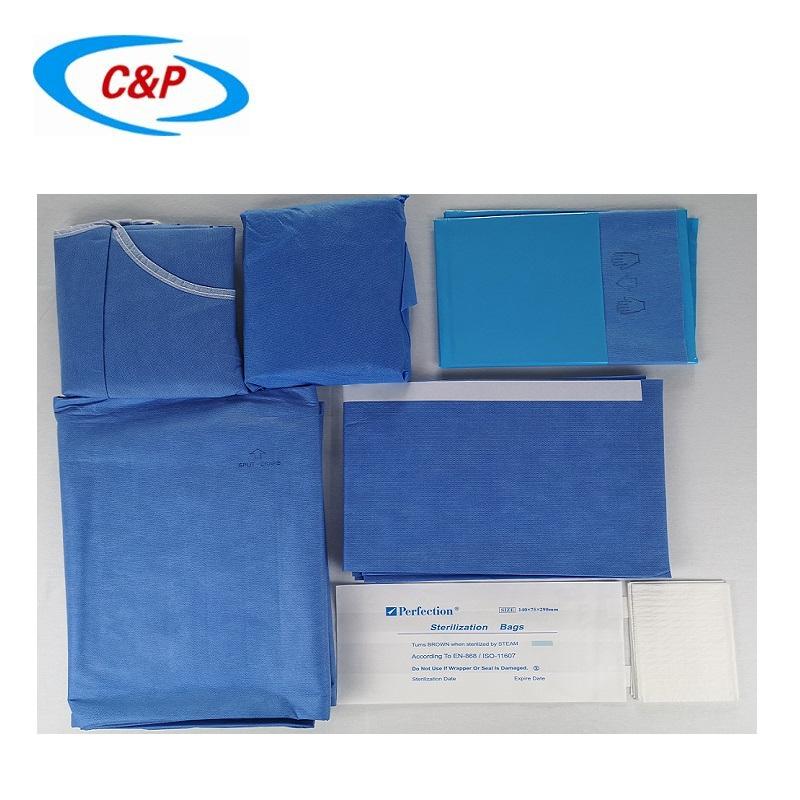 U Split Drape: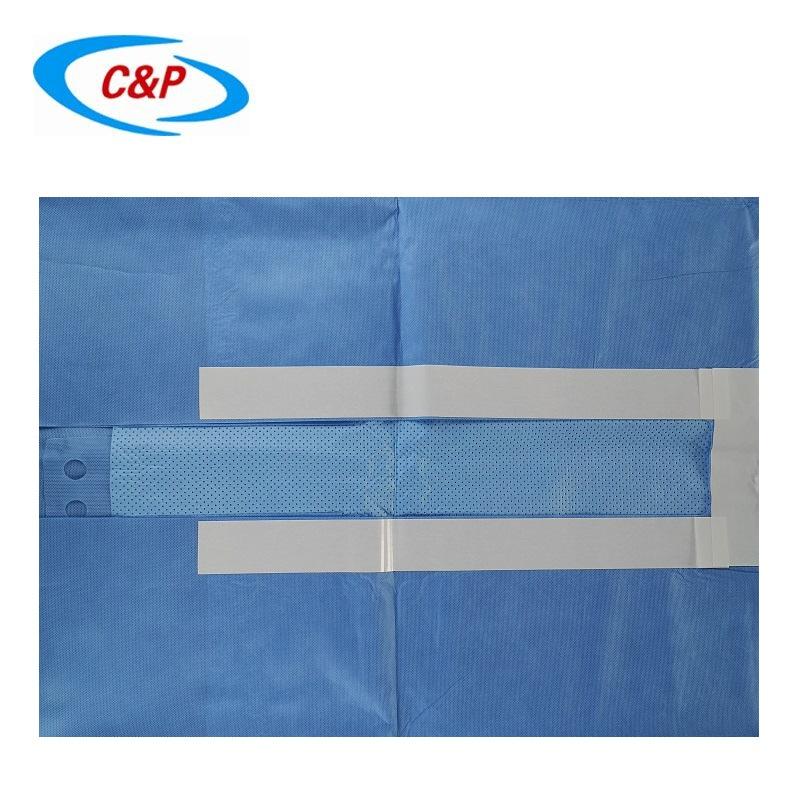 Surgical Gown L: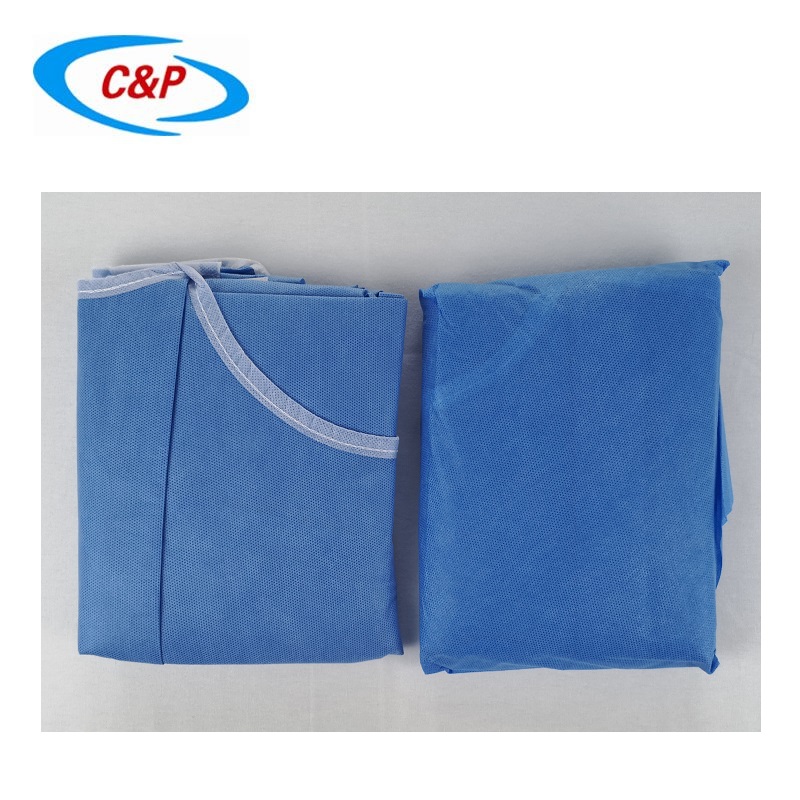 Product Features
1.Fluid repellent
2.Blocking the transmission of bacteria
3.Good air permeability
4.High strength and durability
5.Free from chemical agents and Latex, soft on sensitive skin
Why Choose US!
---
A. 12 years experience, surgical drapes, surgical packs, surgical gown, equipment covers and other disposable non-woven medical products.
B. We set up 100000 grade standard clean room(ISO8) space.
C. Excellent packaging and warehousing facilities
D. Custom Designed Surgical Drapes & Packs, OEM supplier
E. Flexible base material options for drape
F. Timely execution of orders
G. Competitive pricing
Our Services
---
1. We have basic universal pack, U-split sheet, hip pack, knee arthroscopy pack, extremity pack, urinary drape pack, T. U. R. pack, cystoscopy pack, brain-surgery pack, gynecological pack, caesarean pack, lithotomy pack, ophthalmology drape pack.
2. We can produce the drapes with all kinds of wide, color, weight.
3. We can laminate with two or three layers
4. We have assorted production lines
5. Good after sale service. We take care your complaints as we would like to be your long-term supplier!
Our Work Flow
---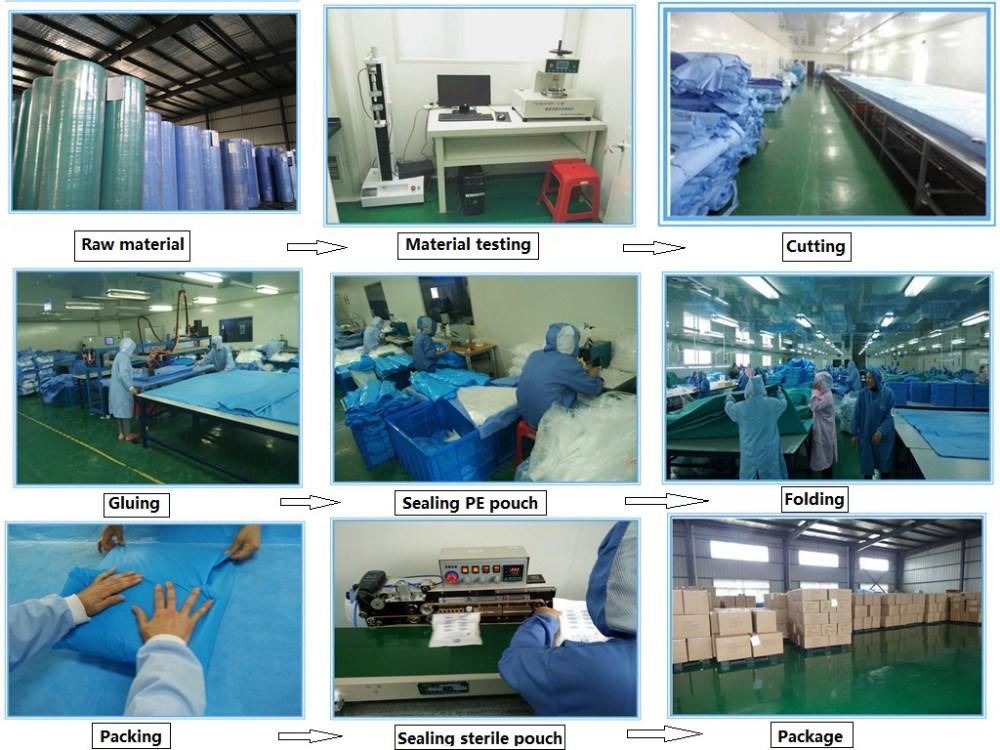 Our Company
---
Hefei C&P Nonwoven Products Co.,Ltd. is a Private company established in 2007, C&P located in Hefei city,capital of Anhui. C&P is a manufacturer and supplier of surgical drapes& packs, surgical gown,equipment covers and other disposable medical products.We assemble packs specially for all kinds of surgeries. Our 3000 square meter 100,000 grade standard clean room(ISO8) space and more than 100 employees aiming to flexibility and cost effective efficiency.