Medical Disposable surgical Ophthalmic pack Eye drape packs manufacturer
Product Details:
2pcs Surgical Gown,Size L,Blue SMS 48gsm
4pcs Paper Hand Towel,30x40cm
10pcs Cotton Gauzes 10x10cm,12-ply
1pc Eye Drape100x140cm, 8x11cm film with single fluid collection pouch
3pcs Syringes 3cc,LL
2pcs Syringe 1cc,LL
1pc Needle 26G
1pc Needle 18G
2pc Eye Pad
1pc Medicine Cup,3oz
2pcs Medicine Cup,6oz
1pc Kidney Dish,8oz
1pc Back Table Cover 120x150cm,2ply
1pc Back Table Cover 120x150cm,45gsm SMS wrap
1pc Rampley Dressing Forceps
1pc Eye Shield,Universal
4pcs Viscoelastic Cannula,Angled,27Gx7/8"
5pcs PVA Spears
Pictures: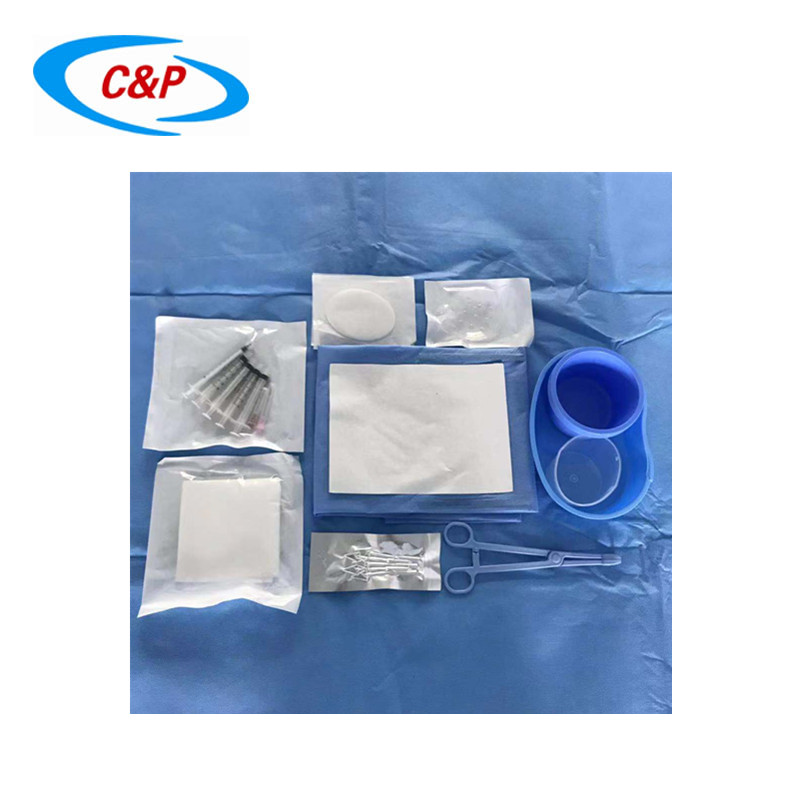 Universal Ophthalmology Surgical Pack and drapes are an ideal option for all kind of surgery. These are extensively used in various hospitals during the operations to provide the comfortability in the hospital room. The blood, body fluid and exudation of patients, which has potential infection, can be obstructed effectively to prevent the bacteria infection
Our advantages:
1. Quick response for inquiry and Sample
2. All production finished in the Cleaning Room.
3. Our manufacture manager has 20 years experience in surgical drape field,ever work for overseas company.
4. CE& ISO13485 Certificate,SA8000 Factory Test.
5. ERP system to convenient effective production communication
6. Flexible order choose.
We have CE& ISO13485 Certificates: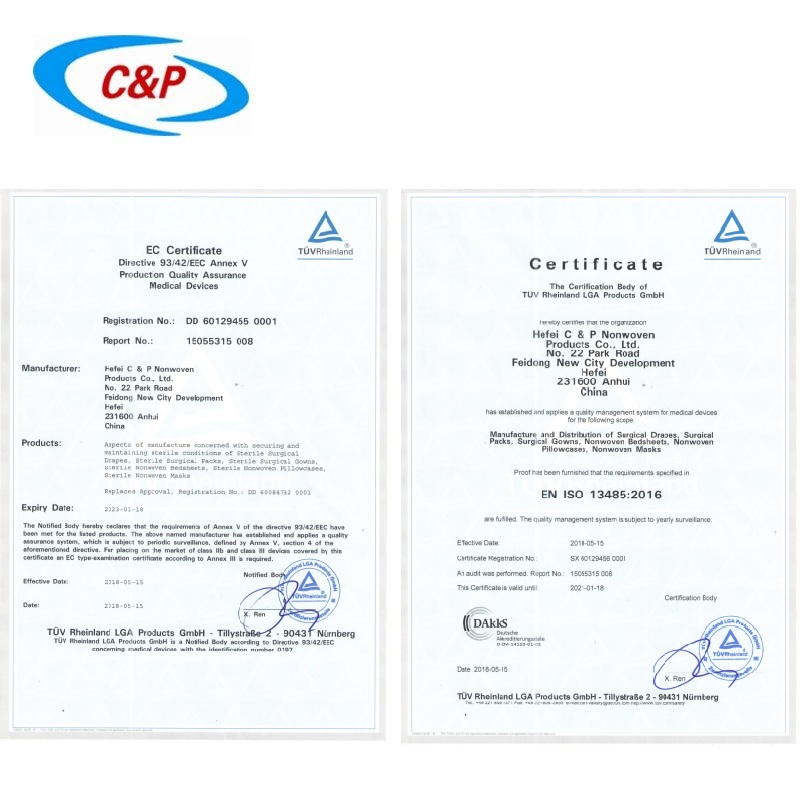 Company profile:
Hefei C& P Nonwoven Products Co.,Ltd is a Private Company established in 2007.C& P located in Hefei city,capital of Anhui C& P is a manufacturer and supplier of surgical drapes, packs ,surgical gown, equipment covers and other disposable nonwoven medical products.