AAMI Level 2 Non woven Isolation Gown Disposable Manufacturer
Product Description:
The disposable isolation gown produced by our company uses SMS non-woven fabric as the raw material (SMS: spunbond non-woven fabric + melt blown non-woven fabric + spunbond non-woven fabric + three-layer fiber mesh hot rolled), which has the advantages of non-toxic, non odor, high-efficiency bacteria isolation, high strength, good filtration, etc., as well as anti-static, anti alcohol, anti plasma and waterproof functions. It is suitable for hospitals, clinics, beauty salons, laboratories, factories and other places, and plays the role of isolation and protection.
Details are as follows:
1. Main Material: 45gsm or Customized according to customer requirements.
2. Color: Blue or Customized according to customer requirements.
3. Type: Tie-String to the back
4. Size: M、L、XL、XXL or Customized according to customer requirements
5. Packing: 10pcs/sterile pouch, 6packs/ctn
6. Standard: Meet AAMI2 and EN13795 standard
7. Specification and size comparison table of isolation gown:
| | | | |
| --- | --- | --- | --- |
| Height (cm) | Size | Length (cm) | Width (cm) |
| 165 and below | M | 115 | 150 |
| 170 | L | 125 | 157 |
| 175 | XL | 140 | 165 |
| 180 and above | XXL | 155 | 170 |
Detail Images: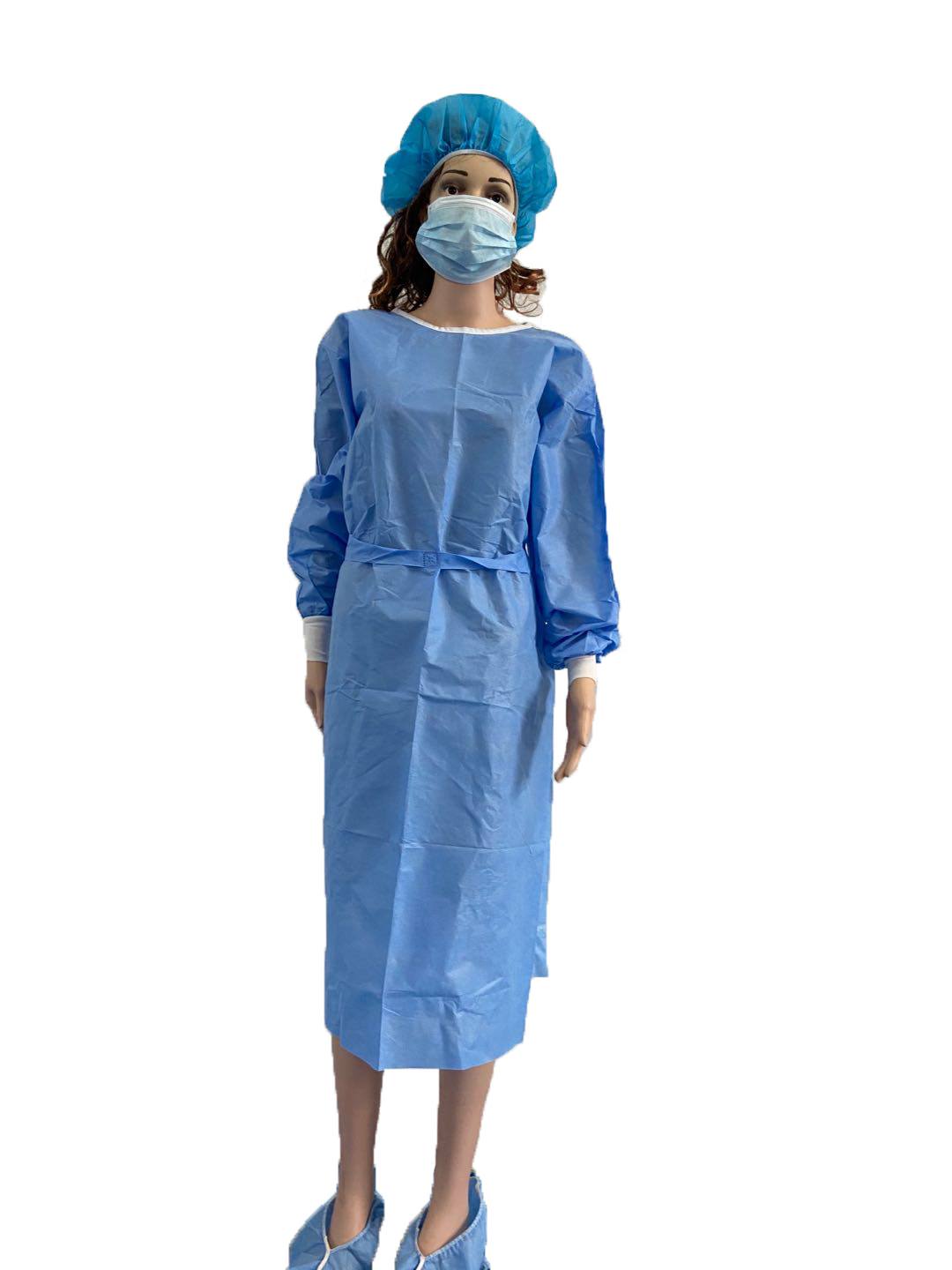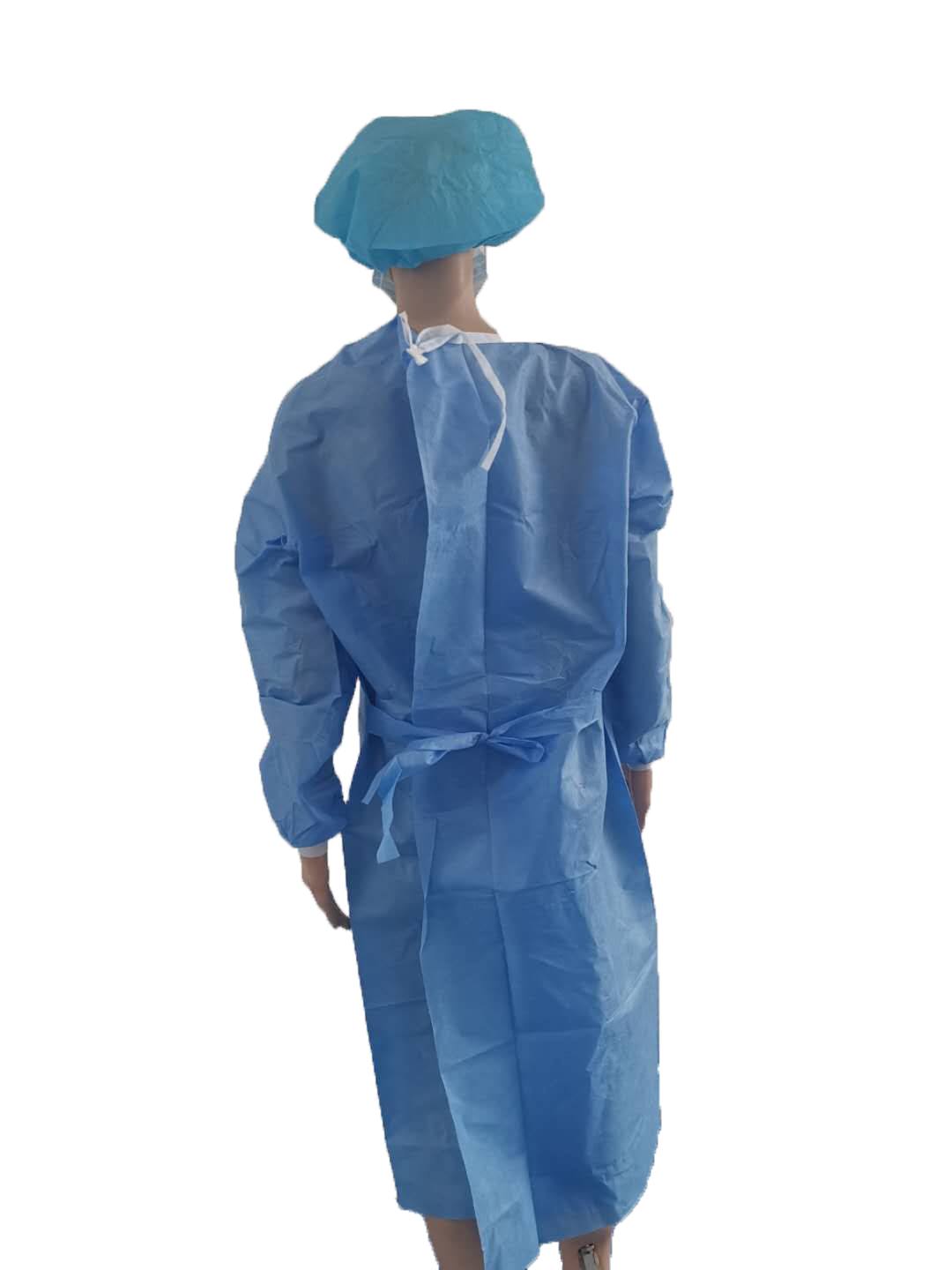 Product Features:
1. Good air permeability
SMS non-woven fabric, one-way ventilation, efficient antibacterial, can quickly volatilize the internal heat.
2. Block small particles
It can block fine particles, dust, etc. and avoid physical contact.
3. Effective isolation
It can effectively block the penetration of liquid and bacteria, filter volatile gas and avoid direct contact.
Product Design:
1. Knitted Cuff Design: It is soft and comfortable, can better fit the arm, effectively prevent bacteria and dust from entering, and is more protective.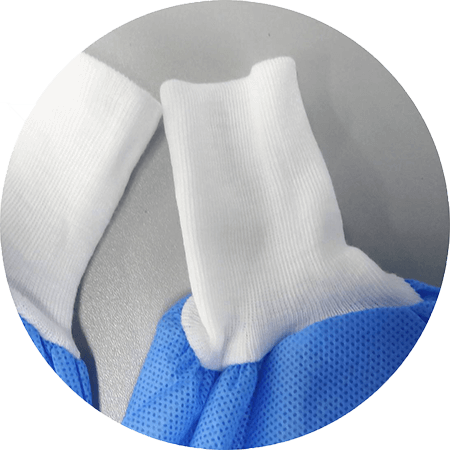 2. Back Strap Design: The back strap can be adjusted to make it more comfortable to wear and more convenient to put on and take off.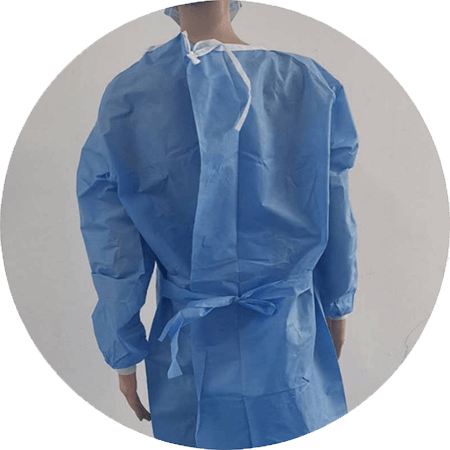 3. Fine workmanship: Fine cutting, the stitches are neat without stitching to ensure the protection effect.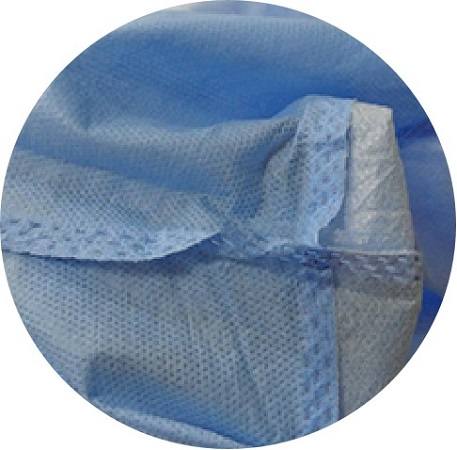 Product Usage: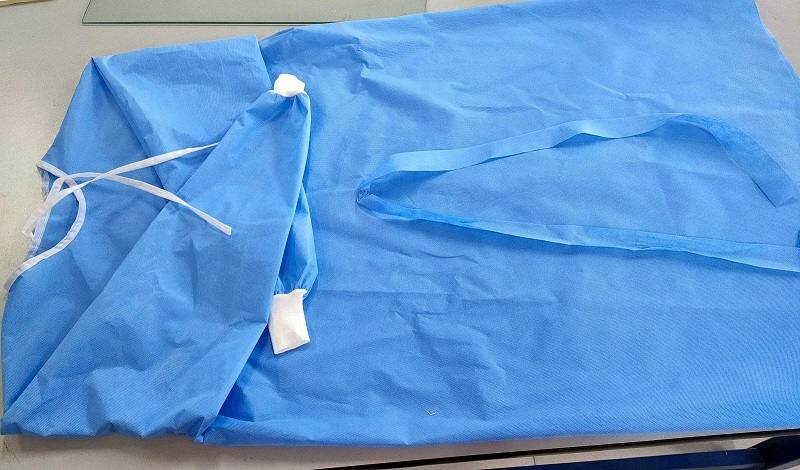 Usage:
① It is used for medical personnel to avoid contamination by blood, body fluids and other infectious substances when contacting patients;
② Protective equipment for patients to avoid infection;
③ Isolation gown prevents medical staff from being contaminated and prevents patients from being infected. It is a two-way isolation.
AAMI Test Report: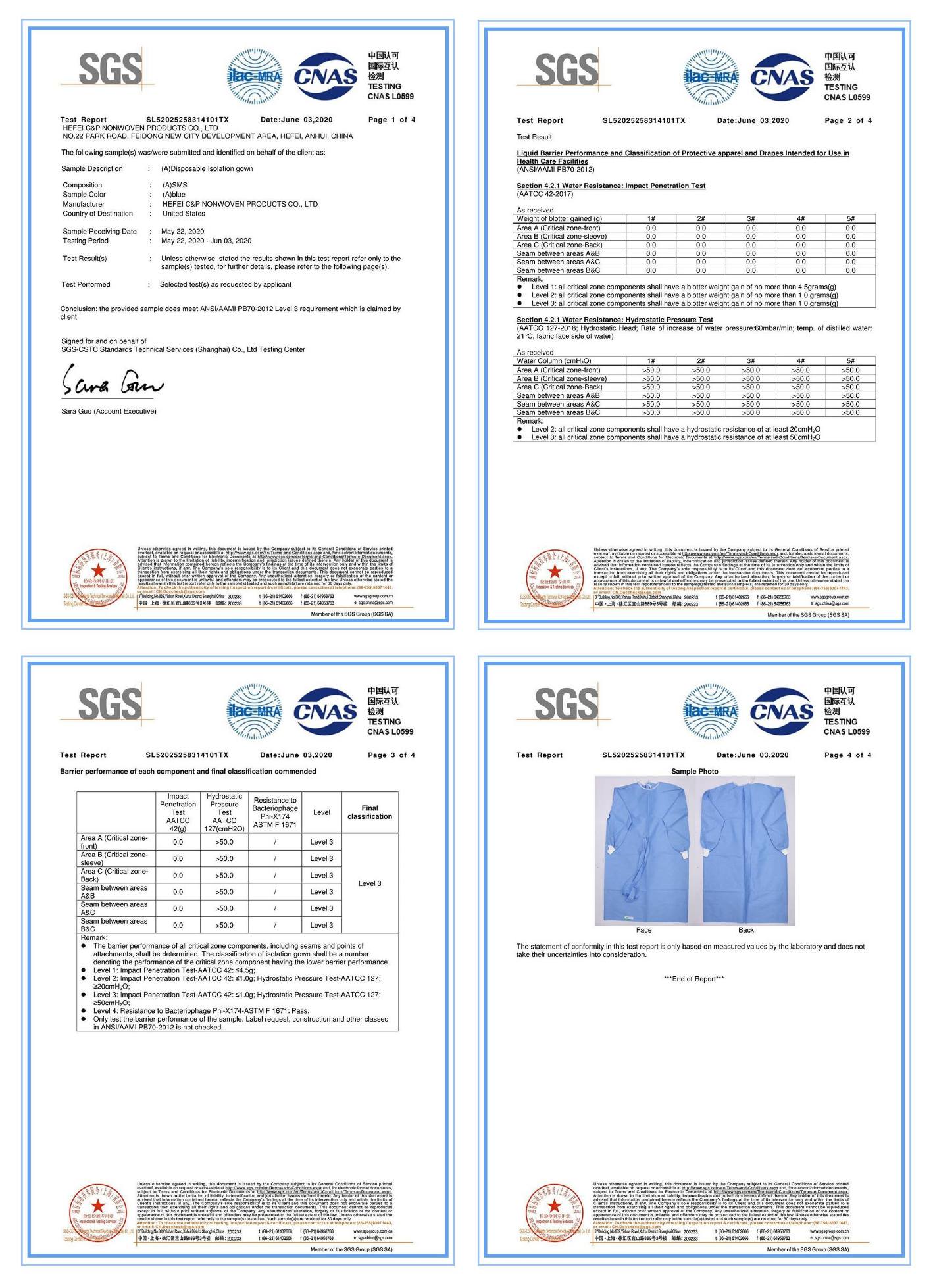 How To Use:
Wearing a isolation gown:

1. Take out the clothes: Take the collar and take off the clean face of the isolation gowns toward yourself;
2. Wearing sleeves: Hold the collar with one hand, and put the other hand into the sleeve on one side. Raise your arm, wear the sleeve, and wear the other sleeve according to the method;
3. Collar: Hold the collar with both hands, straighten the collar from front to back, and tie the neckline;
4. Tie the belt: tie a knot on the back with a belt.
Undressing:

1. Unfasten the belt: Unfasten the belt and tie a knot at the front;
2. Untie cuff: Cuff part of the sleeve into the sleeve at the elbow;
3. Disinfect your hands;
4. Untie the neckline: untie the tie;
5. Put your right hand into the sleeve of the left wrist, pull down the sleeve and pass the hand, hold the outside of the right hand isolation sleeve with the covered left hand, pull down the right sleeve, and gradually withdraw your arms;
6. Hold the collar with both hands, fold the isolation clothing, align the clothing edges, and hang it on the clothes hook.
Packing & Delivery:
Packing: 10pcs/sterile pouch, 6packs/ctn, size:50x36x36cm, G.W:9kgs
Shipping port: FOB Shanghai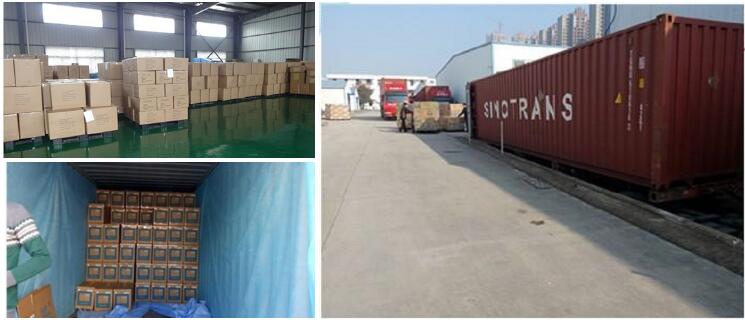 Our Services:
1. Samples and customization available.
2. Professional QC to control the product quality. All the products comply with international quality standard such as CE,ISO.
3. Have enough experience and gained a high reputation from our customers.
4. Quick payment, timely delivery and competitive price.
5. Stable quality and best after-sale service.
6. OEM service is available.
Certificate: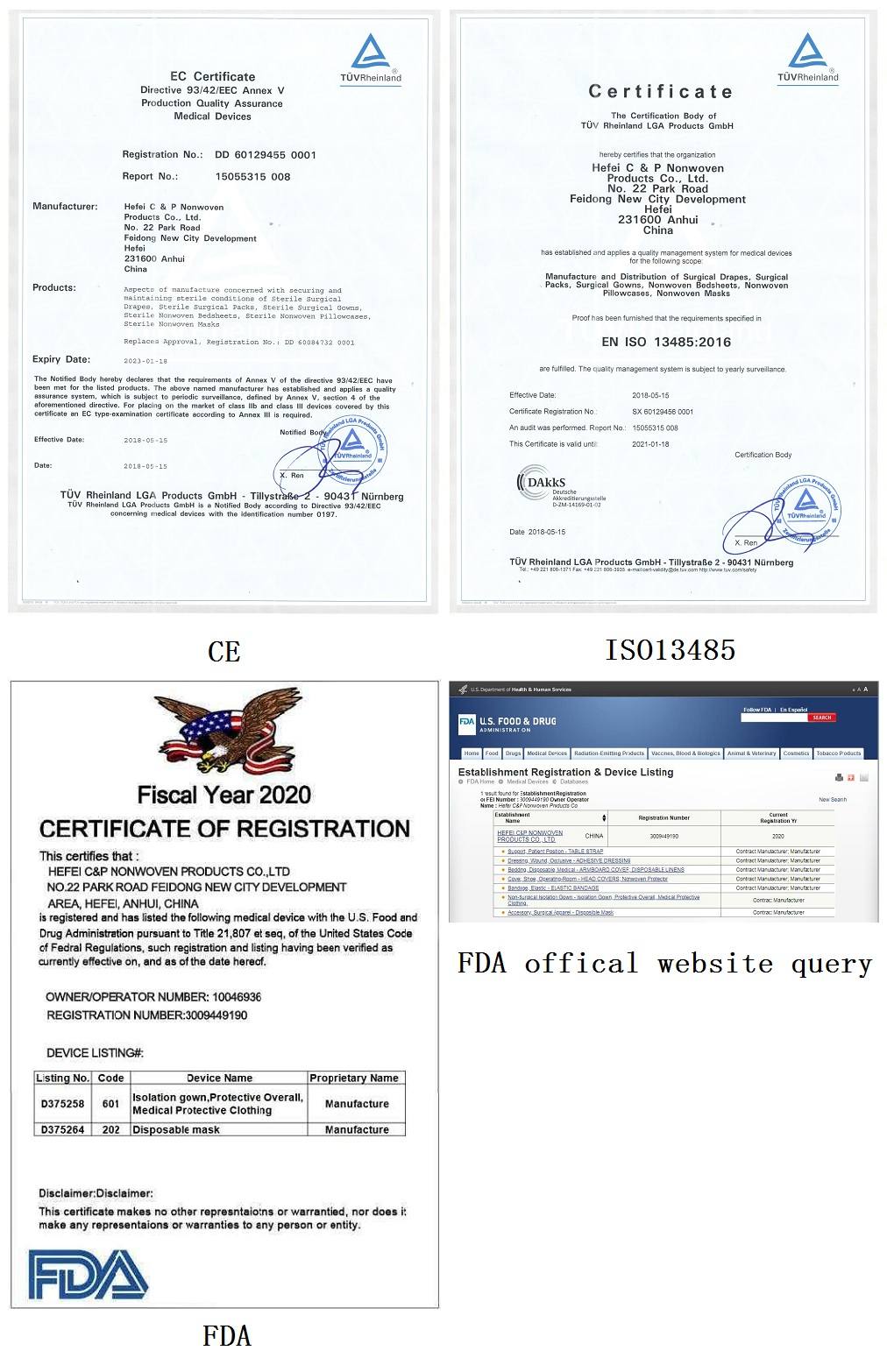 Company Information:
We are manufacturer and supplier of nonwoven disposable products in Hefei,China with 13 years experience of exporting. We have more than 100 employees and all products manufactured in our 3000 square meter 10K class cleaning room. All products with CE certification,and manufacture follow ISO13485 quality system strictly. Our main products are surgical drapes, surgical packs, surgical gowns, masks, isolation gown, equipment covers and other disposable medical products.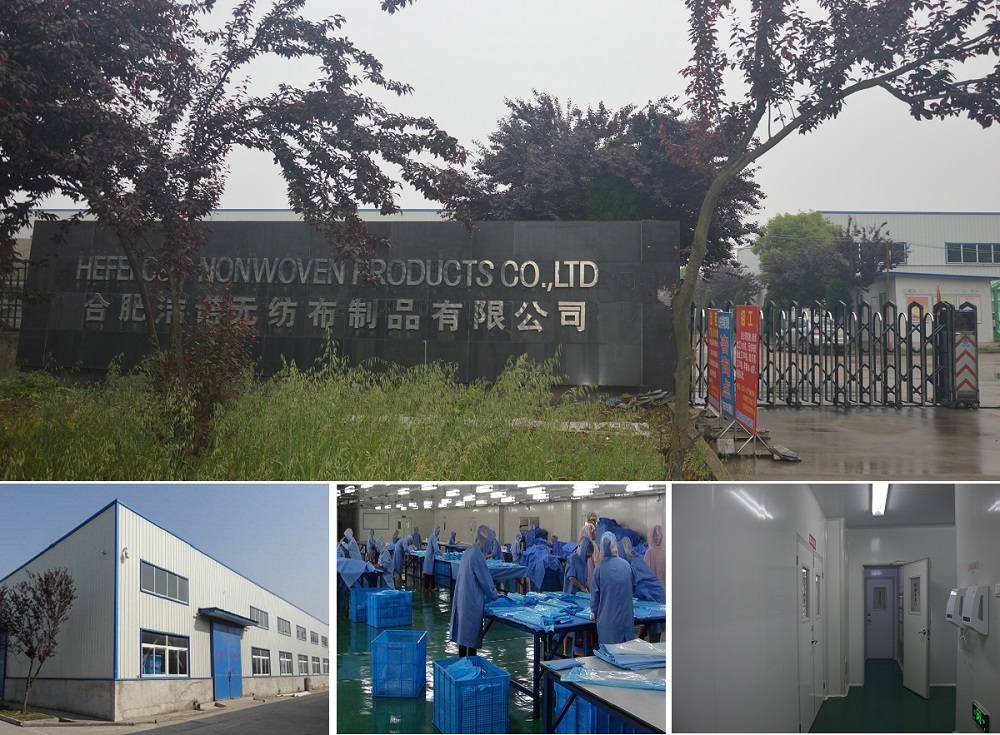 Sterility Assurance
ANS/AAMI/ISO11135Medical devices,validation and routine control of Ethylene Oxide sterilization.
International sterilization Standard-ANSI, AAMI, ISO7135 and EN550 are applied. Special sterilization packages are used for the packaging of sterile products. Every sterilization batch is checked by chemical indicators and within certain periods, valiation of the sterilization is held by using biological indicators.
Skills & Strength
1. Production line in compliance with WHO and GMP.
2. Excellent packaging and warehousing facilities.
3. Custom designed drapes & packs, OEM supplier.
4. Flexible base material options for drapes&gowns.
5. Timely execution of orders.
6. Competitive pricing.
FAQ:
1. Q: Are you a trading company or a factory?
A: We are manufacturer, more than 150 workers, non-dust workshop ,13 years experiences, ISO, CE certificate, two hours reach shanghai port.
2. Q: How about the material?
A: Purchased from domestic raw material suppliers whose equipment are imported and raw material approved by EN13795.
3. Q: How about the sample?
A: 1.Please give me the exactly specs details. We can according to your specification give you a sample.
2.You can send us a sample, we can according to your sample give you a counter sample.
3.Most of samples are free with freight collection.
4. Q: How can I get a price of needed product?
A: 1. Please give the exactly specification details to us. We can according to your specification give you a sample and price.
2. You can send us a sample, we can according to your sample give you a counter sample and price.
3. If you don't know any specification, You can give us the pictures of the product,and the usage, we can according to our experience give you a estimated price.But exactly price must after we checked your original sample.
5. Q: How about OEM?
A: OEM&ODM are all acceptable.
6. Q:Which payment terms are you accept?
A: Payment terms: T/T, L/C ,Western Union, Paypal, Cash and etc...
7. Q:Do you accept small order?
A: Small order is acceptable, we would like to grow up with you together.
8. Q: how's delivery time ?
A: Regularly, delivery time is about 30-40 days after receipt of 30% deposit,or depends on your order quantity.
9. Q:what's your advantage?
A: More than 13 years focusing on disposable medical products and exporting experience;having a professional control process, management process for production;Having a professional design team can do OEM. Near the sterile station,we can save time and cost to make sterile,also deliver the products to our clients quickly.