Disposable Radiology Pack Sterile Radi
ology
Surgical Drape Pack
Product Description
---
1.Material:SMS
2.Color: Blue
3.Certificate: CE , ISO13485, EN13795
4.Package: sterile pouch, 10pcs/ctn(58x38x38cm)
5.Components:
1pc. Scissor Mayo Str. 5 ½"
1pc. FCP Kelly Str. 5 ½"
1pc Syringe. 5cc L/L
1pc Syringe. 10cc L/L
1pc Needle 18x1 ½ Reg. Bev.sterile with label
1pc Needle 27x1/2 Reg. Bev.sterile with label
1pc Needle 23x1 Reg. Bev.
2pcs. Bowl, Solution 8 oz. 250cc
1pc Basin, Emesis 700cc
1pc Tray, 9"x10"x2"
1pc Tray, 9"x5"x2"
2pc Gown, L NRF,45gsm SMS standard with pocket
1pc Gown, XLG NRF,45gsm SMS standard with pocket
1pc Cover, Table 60"x60"
1pc Drape, 44"x55" Half (SMS)
1pc Drape, 48"x60" Minor Proc. w/ 3"Fen.
4pcs Slide, Glass Frosted 1"x3"(with protection box cover)
1pc Scalpel, #11 (Lance)
20 ply SPG. Gauze 4x4 12 Ply
1pc SPG. Gauze 4x4 16 Ply
2pcs Machine cover round shape size22x55 II sheet(SMK15-IIS)
1pc Shield cover 95cm x95cm (pouch shape)
1pc Yellow plastic bag size 12"x8"
1pc Light Handle Cover(Green)
Medical radiology drape kits are used to limit contamination of the surgical wound, the surgical instruments and the surgeon's hands. To be effective, the drape should at a minimum cover all or nearly all of the people and enough of the surrounding area to avoid accidental contamination.The customized nonwoven radiology packs allow direct observation of the patient during surgery, which help the operation to complete successfully.
Product Pictures
---
Radiology surgical pack: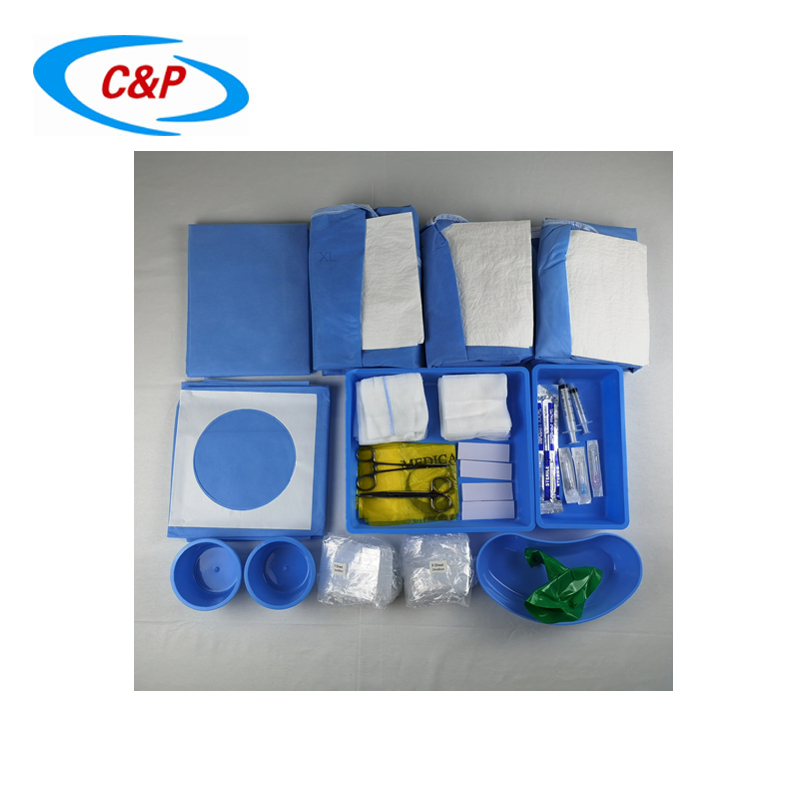 Fenestrated drape with tape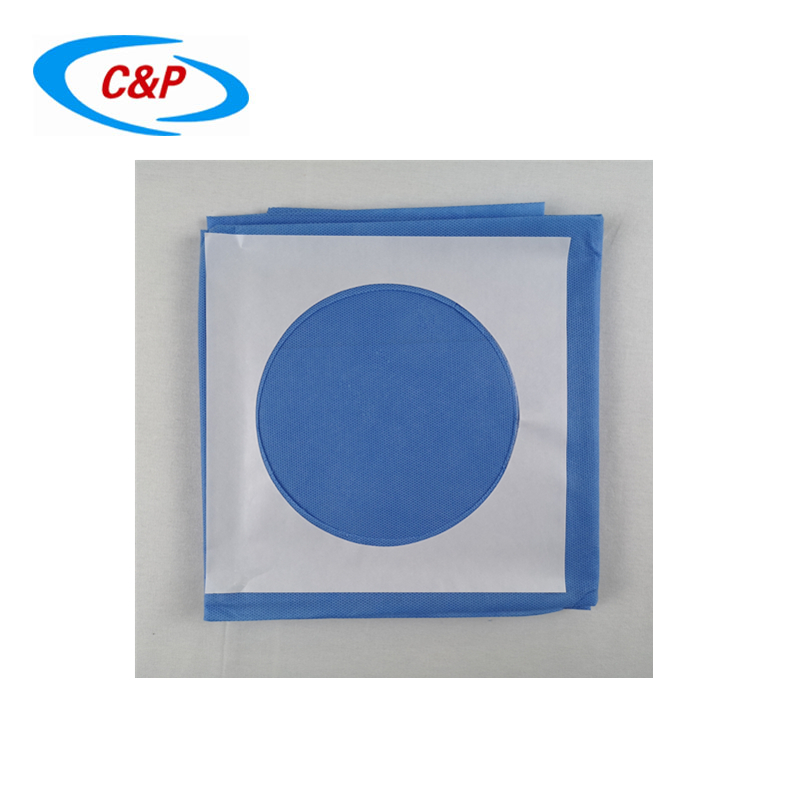 drape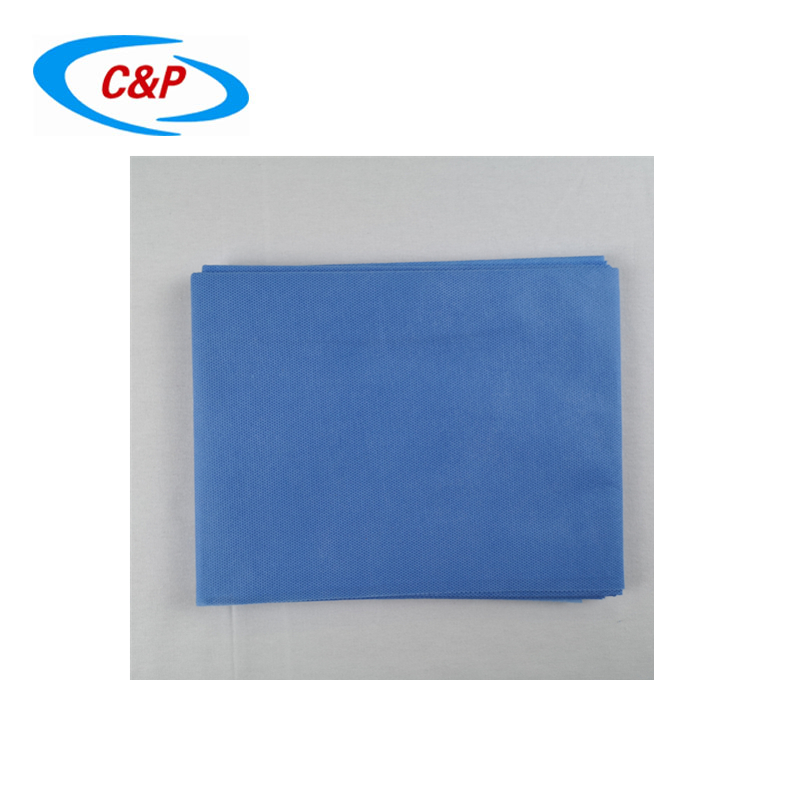 Product Features
1. Light weight and soft feeling
2. Excellent waterproof
3. Blocking the transmission of bacteria
4. Free from chemical agents and Latex, soft on sensitive skin
5. With or without embossed pattern.
Our Services
---
1. We have basic universal pack, U-split sheet, hip pack, knee arthroscopy pack, extremity pack, urinary drape pack, T. U. R. pack, cystoscopy pack, brain-surgery pack, gynecological pack, cesarean pack, lithotomy pack, ophthalmology drape pack.
2. We can produce the drapes with all kinds of wide, color, weight.
3. We can laminate with two or three layers
4. We have assorted production lines
5. Good after sale service. We take care your complaints as we would like to be your long-term supplier!
Our Work Flow
---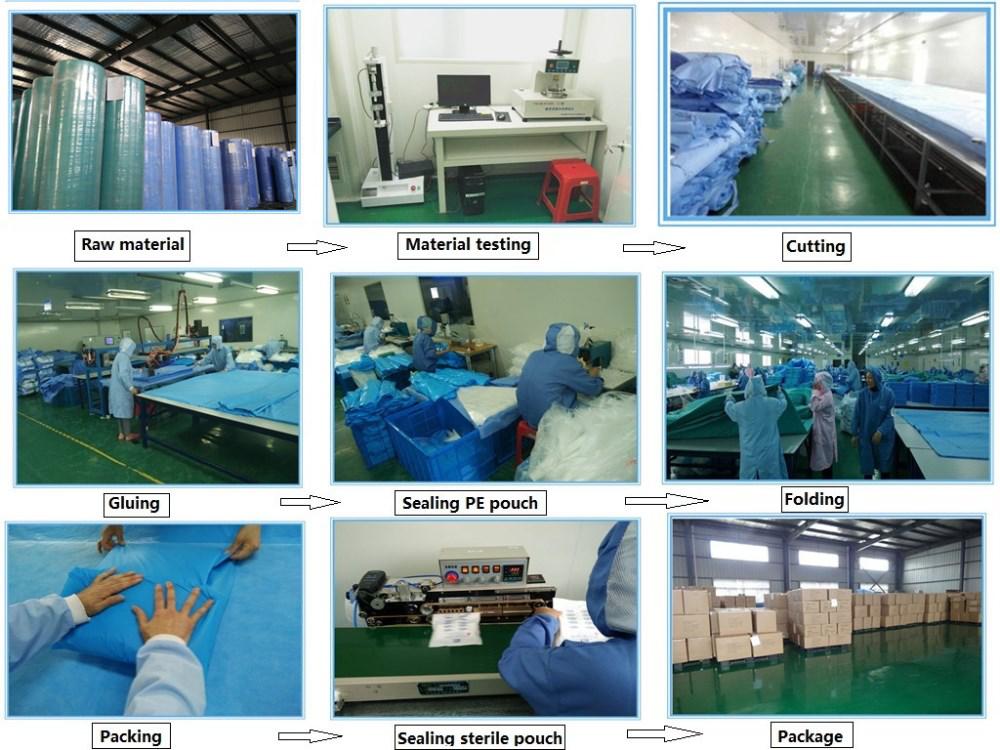 Our Company
---
Hefei C& P Nonwoven Products Co.,Ltd. is a Private company established in 2007,C& P located in Hefei city,capital of Anhui,C& P is a manufacturer and supplier of surgical drapes& packs, surgical gown,equipment covers and other disposable medical products.We assemble packs specially for all kinds of surgeries.Our 3000 square meter 100,000 grade standard clean room(ISO8) space and more than 100 employees aiming to flexibility and cost effective efficiency.
Product Overview
---